In a beauty industry that too often fails to cater to women of color, many of those women of color have taken matters into their own hands by starting their own companies. We've already highlighted some rising makeup brands to pay attention to—now we're looking at skincare. 

KRISTINA RODULFO

You might be giving your skin a break or  going makeup free during quarantine ,but dealing with quarantine skin can be difficult, especially if you are stressed out.
Stress, diet, and lack of sun are three contributing factors to those annoying break outs. Having to deal with a global pandemic can raise your stress levels. When your stress hormone (cortisol) increases, your sebaceous glands produce more oil. As you might already know, more oil means more acne, pimples, blackheads, and whiteheads. 
Try to lower your stress levels by doing regular exercise, meditate, dance, or listen to your favorite music. Below are 4 simple tips to take care of your skin during quarantine.
4 Steps to Take Care Of Black Skin During Quarantine
Step 1 Cleanse and Moisturize Daily 
If you have dry to normal skin, make sure to cleanse and moisturize once a day. If your skin is oily, you should wash your face twice a day.
Use a gentle cleanser that does not clog the pores. A good black-owned company that offers environmentally-friendly facial skincare products is BLK + GRN.  
Massage the cleanser into the skin and then rinse it off with warm water and pat the skin with a towel.
It is important to notice that studies have shown that tan and brown complexions loses moisture quicker and easier than fair skin tones, so make sure to use a good moisturizer. Plant Apothecary offers USDA organic products, including serums for different skin types. 
Make sure to apply a daily moisturizer that contains ingredients such as glycerin or hyaluronic acid. Always choose non-comedogenic products; forget moisturizers with fragrances, as they can irritate the skin.
During this time, avoid using exfoliating products on the face as they can be harsh.
Step 2: Apply Sunscreen. YES SUNSCREEN!!!
One of the biggest myths is that black people don't need sunscreen.  Even though darker-skinned people are less likely to experience a sunburn, long-term exposure still increases the risk of skin cancer and other skin issues, such as dark spots, hyperpigmentation, and dry skin. 
Step 3: Use Eye Cream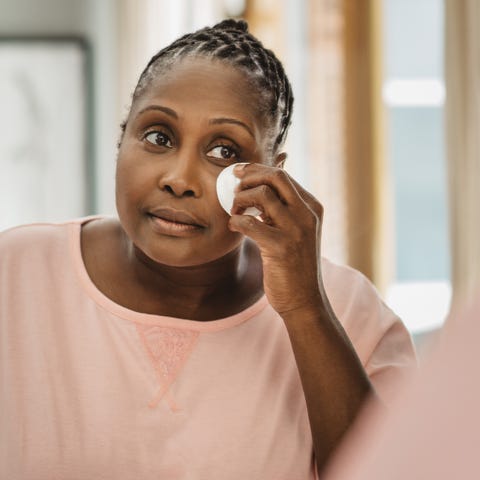 If you are working from home, you are probably spending a lot of time staring at a screen. Unfortunately, this is affecting your eyes, causing eye bags and dark circles. You have to remember that your eyes are the most sensitive part of your skin, and they are more prone to premature aging.
So don't forget to invest in a good eye cream to improve the appearance of wrinkles, dark circles, and puffiness.
Step 4: Treat Acne 
If you are suffering from acne, you need to use non-comedogenic, oil-free products. Avoid irritants as they can worsen the problem. There are a variety of natural acne treatments for black skin, such as tea tree oil and citric acid that can help heal your skin.
Try your best to treat acne as soon as possible to help prevent dark spots. Avoid popping pimples, as it causes inflammation and scarring.  
It is important to maintain your beauty regime during this time. Having a skincare routineis key to slow down the aging process and to keep you relax and happy.  
For more skincare tips, go to Raven Soray! Thank you for reading!
Hey 👋🏽 Soray Readers! Do you love my content? You can now buy me a book by clicking the link below! Donations are used to help support my blog. https://www.buymeacoffee.com/RavenSoray
#BLACKOWNEDSKINCARE #blackowned #supportblackowned #shopblackowned #blackownedskincare #skincare #beautyblogger #likeandfollow
References & Cites
Take (Facial) Care With Black Owned Brands – Shop With Leslie. Shop With Leslie. (2018). Retrieved 8 May 2020, from https://shopwithleslie.blog/2018/04/29/take-facial-care-with-black-owned-brands/.
Allen, M. (2020). The Black-Owned Beauty Brands I'll Never Stop Talking About. Marie Claire. Retrieved 8 May 2020, from https://www.marieclaire.com/beauty/a26241392/black-owned-beauty-brands/.
Flowers, S. (2020). How To Take Care Of Your Skin During Quarantine – Skinstore US. Skinstore US. Retrieved 8 May 2020, from https://www.skinstore.com/blog/skincare/how-to-take-care-of-your-skin-during-quarantine/.
Leonard, J. (2020). Black skin care: 5 tips for a great skin care routine. Medicalnewstoday.com. Retrieved 8 May 2020, from https://www.medicalnewstoday.com/articles/325458.